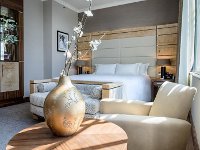 Hilton London Paddington, one of London's grandest Victorian Hotels, has been a leader in offering the best services in an unrivalled location since 1854. Consistent upgrades to our product, including the £5 million full refurbishment of our bedrooms in 2012-2013, has ensured our valued service and amenities in this iconic London Hotel.
The latest example of this comes with the opening of our spacious and luxurious GWR Tower Rooms and Tower Lounge @ Paddington in December 2014.
Located in an exclusive wing, the GWR Tower Rooms offer elegant and unrivalled luxury accommodation to all guests. Their high standard of quality extends to the smallest detail providing a perfect setting for an unforgettable experience and a sanctuary from the hustle and bustle in this vibrant city.
The name, GWR Tower Rooms, reflects the original name of the Hotel when it first opened in 1854 as the Great Western Royal (GWR); a tribute to the rich history associated with this iconic building. The rooms will incorporate all the facilities associated with a premium product as well as access to Hilton London Paddington's first class lounge; the Tower Lounge @ Paddington.
Located on the top floor of this exclusive wing, the Tower Lounge @ Paddington will offer unrivalled service including individual check-in, check-out, made to order breakfast, light snacks throughout the day and cocktails and canapés during the evening.
Oded Lifschitz, UK area vice president, Hilton Worldwide said "Paddington's character is defined by its proud heritage as the gateway to London. Brunel's Great Western Railway (GWR) and the Heathrow Express make it one of the best connected locations in the UK. The arrival of Cross rail in 2018 will lead the further evolution of Paddington into one of the most desirable places to do business, visit and live: a destination in its own right.
"The investment by Hilton London Paddington to create the stunning new GWR Tower Wing is inspired and perfectly placed, adding luxury capacity within the hotel sector and providing a fitting continuation of Brunel's great vision."
For further information about this exciting new addition to Hilton London Paddington, please contact the hotel on +44 (0)20 7850 0591 or david.heinel@hilton.com.