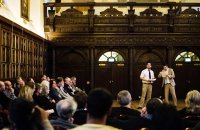 City of London venue, Middle Temple, is to host the next instalment of Shakespeare's Globe Read Not Dead on Sunday 2nd November 2014 at 4.00pm. A revolutionary way to present a performance, Read Not Dead takes audience members on an exciting journey of discovery as they watch talented actors perform relatively unknown works with script in hand.
Middle Temple Hall will stage the next performance entitled: The Excellent Comedy of Two The Most Faithfullest Friends, Damon and Pithias by Richard Edwardes.
Sales and marketing manager Lorraine Butler said: "Our historical ties to playwrights are fitting for Read Not Dead and we are delighted to work with Globe Education to host the next reading. Middle Temple's rich history includes hosting many social functions and cultural programmes; the first performance of Shakespeare's Twelfth Night took place here in 1602.Virtually unchanged the venue is the perfect setting for such performances with its grand oak hammer beam roof, stained glass windows and carved woodwork resplendent for audience and actors alike."
Created by Globe Education at Shakespeare's Globe, Read Not Dead brings actors and audiences together to experience plays written between 1576 and 1642 by Shakespeare and his contemporaries. Long rehearsal periods, detailed costume and set design are put aside, in favour of returning to the text. Actors and director work to get the play-in-a-day up on its feet before performing, script-in-hand, in-front of an audience only a few hours later. These are not intended to be polished productions. Instead, there is a shared spirit of adventure and excitement for actors and audiences who sense that they might be uncovering a hidden gem.
With its home at Shakespeare's Globe's new indoor venue, the Sam Wanamaker Playhouse, Read Not Dead goes on the road each season to historic venues around the country, and has been taken to Wilderness, Latitude and Glastonbury festivals. Numerous actors have taken part since the series' inauguration, including Carey Mulligan, Paul Bettany, Kenneth Branagh, Jason Isaacs and Ben Whishaw.
Tickets for Read Not Dead at Middle Temple cost £25.00 (general) and £20.00 (concession). Tickets can be purchased on telephone: 0207 401 9919 online: https://tickets.shakespearesglobe.com/eventlist.asp?shoid=533and or in person Monday – Saturday 10.00am - 5.00pm and Sunday 10.00am - 4.00pm from Shakespeare's Globe, 21 New Globe Walk, Bankside, London, SE1 9DT. Late comers may not be admitted once the performance starts.
Middle Temple houses some of the most imposing event space in London. The venue is steeped in over 400 years of history and has welcomed Sir Francis Drake and Charles Dickens. The Hall is notable for many reasons a few being surviving Civil War, The Great Fire of London and two World Wars. Middle Temple is available for formal dinners, weddings, meetings, receptions, corporate events, garden parties and outdoor functions.