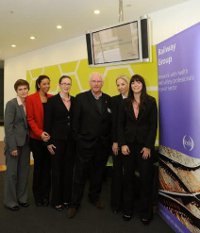 The Congress Centre team had stars in their eyes when record producer, Pete Waterman, visited the venue on 28th November. Alas, he hadn't come to launch their new pop careers; he was attending a rail industry conference held at the central London venue. Pete is evidently chair of the London and North Western Heritage Railway Company. They can but dream!
According to Nadia Scott, Acting Conference & Sales Manager at Congress Centre, "It was a real thrill to meet the legendary Pete Waterman, especially as I grew up listening to his chart-topping music. Despite not being discovered as the next girl band, I hope he liked Congress Centre and the venue's great range of hi-tech facilities as much as we liked him!"
Congress Centre, located in the heart of London's West End, offers a choice of 17 flexible conference and events spaces, hi-tech facilities and outstanding food and service, within an architecturally-renowned listed modernist building. The venue is perfect for conferences, AGMs, exhibitions, meetings, product launches, awards dinners and more.