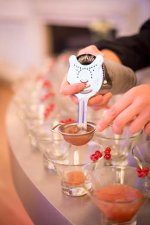 Sodexo Prestige Venues & Events, the award winning contract caterer behind several of Scotland's most exclusive venues, has created an offer too good to resist for all new customers.
The catering and hospitality partner at some of Scotland's most prestigious venues, including Perth Racecourse and Hampden Park, is offering a complimentary drinks reception complete with canapés to all new customers booking a dinner event between January and April 2015.
With ten distinctive venues across Scotland to choose from, the deal may be perfect for those looking to host a dinner in a unique setting, whether it be at one of Scotland's top racecourses or at a historic castle in the country.
Sodexo Prestige's expert chefs will be on hand to ensure that guests dine on fabulous dishes featuring top quality ingredients sourced from local suppliers.
The special offer is the first of its kind for Sodexo Prestige as it is on offer at over 50 venues throughout the UK, including Royal Botanic Garden Edinburgh and the National Museum of Scotland.
Amanda Brown, National Accounts Director for Sodexo Prestige, commented: "We are delighted to provide this additional offer to event bookers as we feel it demonstrates real value for money when booking with Prestige Venue & Events.
"This time of year can be quiet in terms of events and we understand that many organisations may be looking to tighten their belts following the festive period, but we also know how powerful a well-run high quality event can be for a business.
"We hope this offer will encourage more people to book events at our various stunning venues so that we may showcase the quality of our services and demonstrate our talent, skill and knowledge when it comes to food and drink.
"As we are committed to using fresh produce, our expert chefs will be sourcing seasonal ingredients to use in their food, which will be sourced from top quality suppliers throughout Scotland.
"We look forward to welcoming new customers to our venues and showcasing the quality and style of our event management."
The offer is available at ten iconic venues across Scotland including, Perth Racecourse, Hamilton Park Racecourse, Hampden Park, Aberdeen Football Club (Pittodrie) and Dundas Castle.
Bookings for the offer can be made through Sodexo Prestige's Enquiry Hub, who can provide information on the terms and conditions for each venue and its offer, as well as assist with bookings.
Terms and conditions vary in each venue and the offer is only available to new customers booking a dinner event at a Sodexo Prestige Venues & Events venue. The deal runs from January to April unless stated otherwise.