Two of Manchester Metropolitan University's (MMU) buildings, Birley and the School of Art Benzie Building, have both been shortlisted for prestigious Royal Institution of Chartered Surveyors awards.
The nominations revealed that, in a quirk of fate, both buildings will fight it out for the same prize: the "Design Through Innovation" award. Birley also picked up another nomination in the "Regeneration" category. The ceremony announcing the winners will take place on 30th April.
Having recently been completed, the nominations for the Birley building are some of the first, though the Benzie Building is no stranger to architectural accolades after being pipped at the post for last year's national RIBA Stirling Prize.
Both the Benzie Building (pictured below left) and Birley (pictured below right) are visually stunning and provide the perfect venues for events and conferences. The modern features of both buildings provide cutting-edge facilities, great meeting spaces and unique event and exhibition areas.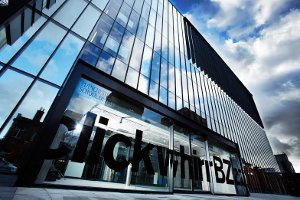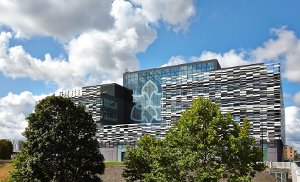 The Birley building opened in the summer of 2014 after a two-year construction programme and is now home to 6,000 students and 500 staff.
The new Benzie building re-opened in April 2013 after the 1960s tower block was refurbished and a new extension added.
For more information about MMU's stunning venues for conferences and events, visit www.mmu.ac.uk/venues.