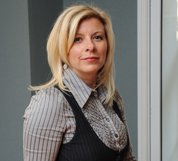 Fay Sharpe, MD of event management agency Zibrant, has launched Fast Forward 15, a career-mentoring initiative for women in the event and hospitality industry.
The scheme is designed to develop aspiring female candidates in the industry by providing opportunities to gain visibility, exposure and confidence. The 15 selected candidates will be introduced to mentors from within the industry who will share their knowledge and experience.
12 mentors have already been recruited, including AstraZeneca's global events director Joanna Lawlor, executive director of global sales EMEA at FRHI Hotels & Resorts Meenaz Lilani, and C&IT's editor-in-chief Yasmin Arrigo.

The course is being supported by Ishreen Bradley of Bizas Coaching and Consulting and has been accredited by both Meeting Professionals International and the HBAA.

Fay explained: "Giving back and investing in future talent has been a founding principle at Zibrant which has been reflected in our Times Top 50 for Women awards. It felt like the right time to share the positive benefits of 'paying it forward' with the wider hospitality industry.

"There are still not enough women progressing to senior positions in our industry. Those at the top of the events and hospitality sector have worked extremely hard to get where they are. I am ever-mindful of how I rose up the corporate ladder and how tough it was to reach my goals.

"I wish that during my career there had been an opportunity to be mentored and coached. Fast Forward 15 was inspired by a personal desire to give back, do something good and help others realise their potential. I'm excited by the prospect of the inaugural 'Class of '15' and look forward to leading the programme during the year."

Once selected, the 15 candidates will be be announced at a special launch lunch, taking place at the Savoy Hotel on 20th March 2015.

The application process formally opens on 15th January with a microsite devoted to Fast Forward 15, as well as the names of all those who have agreed to take part in the initiative as mentors.