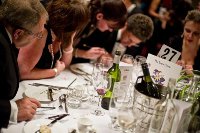 We all have certain milestones that we reach in business.
You could be looking to celebrate your company's first anniversary.
Perhaps you could be coming up to 5, 10, 25, 50 or even 100 years in business and want to celebrate this achievement.
Maybe you could be launching a new product and the months of hard work are about to be rewarded.
Possibly, you could be opening a new office and want to shout from the new rooftops.
You could even be looking to celebrate the fact that you are expanding your business by merging with or taking over another company.
In business, we have many victories and it is crucial that we celebrate these victories, so that we have an opportunity to thank everyone whose hard work made it possible and also to show key partners, clients and suppliers how much you appreciate them.
One of the most common way to celebrate the success of your company is with an annual awards or appreciation dinner. You can reward top-performing sales members, welcome new recruits, give those who are leaving a good send off and, ultimately, make everyone in your company realise that you appreciate and value all that they do.
More importantly, you will also inspire them to help you get to the next reason to celebrate!
If you would like help with choosing your next business event venue, simply fill in the form on the right or contact our team on 0207 193 1847 or email us. You can also browse through our site to find venues close to you.