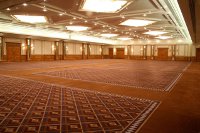 The National Motorcycle Museum, based in
Solihull
, has reported a successful year compared with its 2012 turnover. The museum has seen an approximate 7.5% rise in turnover from their events which include conferences, weddings and dinners. This November and December have been a particularly successful period, with a 20% increase in turnover, compared to the same months last year.
2014's forecast looks very positive, as the National Motorcycle Museum predicts that turnover in Q1 will increase 10% compared to the same quarter in 2013. The directors are optimistic that the industry will continue to show recovery from the recession with more events confirmed as the year progresses. The venue's success reflects the findings of the fifth annual British Meetings & Events Industry Survey, in which Birmingham was voted the top events destination outside of London.

To celebrate 30 years of the National Motorcycle Museum, the museum will be holding a venue showcase event in October. This event will see corporate event bookers, agents and wedding planners visit the museum to find out what the in-house team can offer, as well as have a chance to see and hear the Mighty Whurlitzer organ which rises out of the stage floor in the Imperial Suite.

Nick Hartland, director of the National Motorcycle Museum, commented: "We are pleased to see that the events industry is recovering well from the recession, and 2013 has turned out to be a very good year. It's true that events are smaller and have shorter lead times than in previous years and these trends look as though they will continue into the next few years."

Housing over 800 classic British motorcycles, spanning the 60 golden years of Britain's motorcycle manufacturing industry, the museum has been hailed as the foremost motorcycle museum in the world and provides a perfect setting for any conference, banquet or corporate event. The museum houses a conference centre with 13 purpose built suites available, including the Wardroom, seating just 20 guests, and the Imperial Suite which can host 1000.