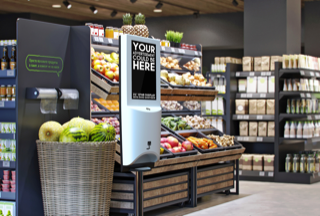 COVID-19 has changed a huge amount about the way we live our lives, and many of these changes are likely to stay in place once the lockdown ends. Venues and events companies are now planning their safe environment measures for re-opening. To reflect this, Leeds based marketing company JLife Ltd has launched a new digital display with auto-dispensing hand sanitiser ideal for the hotel and corporate event venue market.
Consumer trends and behaviours have already changed since the coronavirus outbreak, with much more awareness about proper hand sanitisation. In fact, it may even become a legal requirement for venues open to the public and live events to have a hand sanitisation solution in place.
The unit is an innovative opportunity to also create a revenue stream from advertising whilst providing a vital service to customers. The unit has a built-in 21.5-inch digital screen, to run internal and/or external adverts whilst providing a safe environment to consumers.
JLIfe managing director is Elliot Landy, also publisher of industry magazine Hospitality and Events North: Elliot's background includes a proven track record of successful digital advertising. "This product could support the many venues we work with through these challenging times with the ability to not only provide hand sanitisation for their guests and engage with them through the digital screen, but to potentially provide a well needed revenue stream.
"We have to be prepared for the new normal. Good hand hygiene is a key factor to reduce the spread of germs and keep everybody safe. Consumers will expect it and sway towards venues that take this issue seriously. Being part of the events industry through our magazine, I can see the value of this product at venue receptions and within the events themselves. With the advertising model, the costs of the hardware and software would be covered and a residual revenue stream introduced whilst keeping a safe environment. We can manage the whole process for the venues.
Units are available to buy, rent or potentially free as part of an advertising model. Freestanding or wall mounted, with built in software and easy editing facility. Venues can get in touch for more details.
For enquiries: elliot@nutsforprint.co.uk