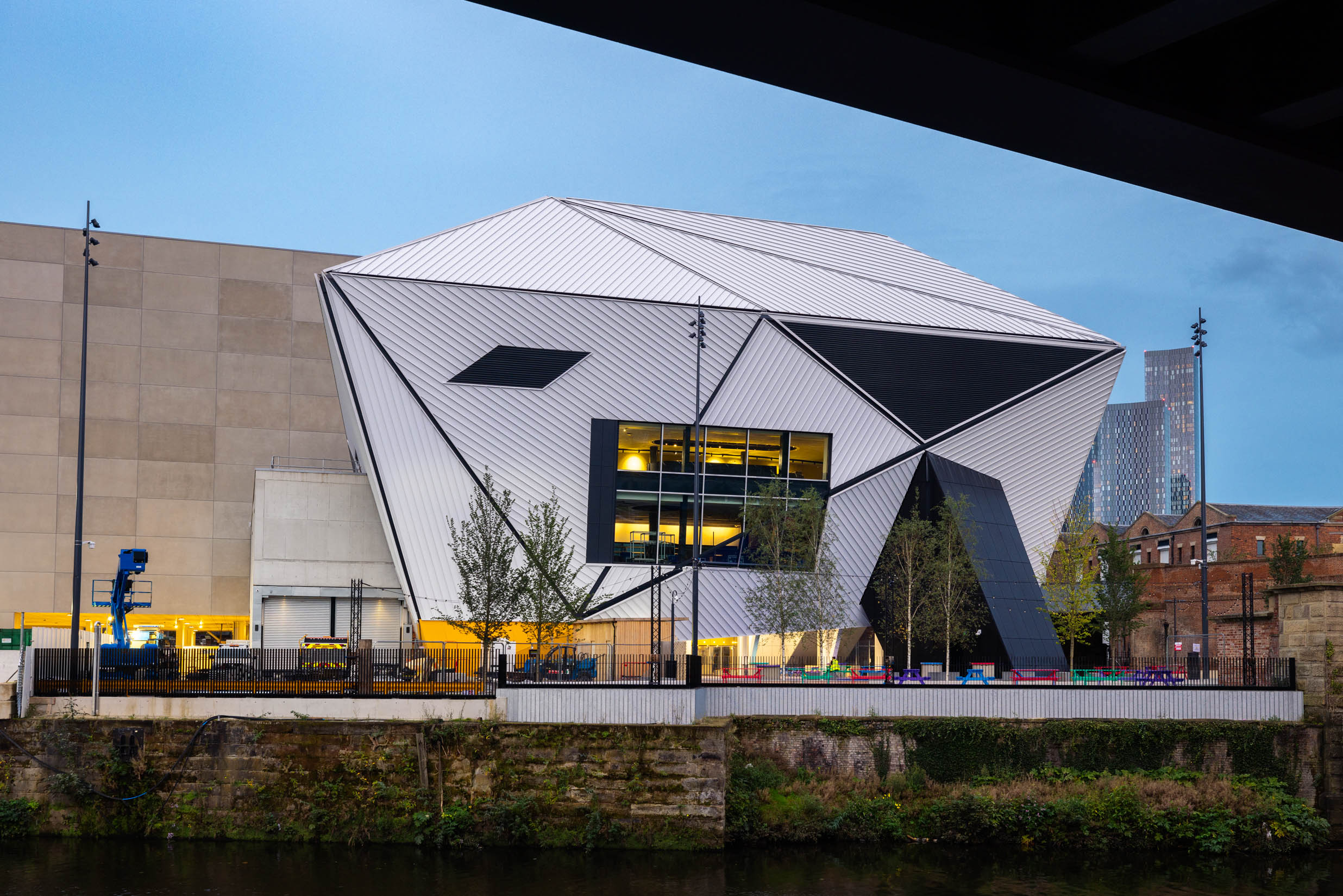 Aviva Studios, Manchester's new cultural landmark and permanent home of Factory International, officially opened on October 18, 2023, featuring the world premiere of Free Your Mind. This OMA-designed venue, the UK's largest investment in a national cultural project since Tate Modern in 2000, is set to be a global hub for arts, music, and culture. The opening production, directed by Danny Boyle, involves a collaboration of world-leading artists and 50 professional dancers, showcasing the venue's ultra-flexible spaces.

Aviva Studios, designed by OMA in the heart of Manchester's St John's neighborhood, offers large, open, and flexible spaces for ambitious artistic works. Its 13,350-square-meter building includes a 21-meter Warehouse with a standing capacity of 5,000 people and a versatile Hall accommodating up to 1,603 seated or 2,000 standing. Programmed by Factory International, it will host diverse year-round productions, including the 2024 highlights, such as Robert Wilson and CocoRosie's Jungle Book adaptation and Ivan Blackstock's TRAPLORD.

Anticipated to contribute £1.1 billion to Manchester's economy over the next decade, Aviva Studios, backed by £99.05m from HM Government and £7m from Arts Council England, emphasizes accessibility, offering affordable ticket pricing and programs for underrepresented artists. The venue aims to be a major training center through the Factory Academy, providing creative opportunities for all ages and backgrounds.

New opportunities, like Artist Takeover, Factory Fellowship, and Factory Sounds, aim to support artists and enrich Greater Manchester's cultural scene. Reflecting its commitment to wider access, Aviva Studios offers 5,000 tickets for Free Your Mind at £10 or less.

John McGrath, Artistic Director of Factory International, expressed excitement about the venue's opening, emphasizing its role in inspiring creativity and nurturing careers. Cllr Bev Craig, Leader of Manchester City Council, highlighted the venue's significance in stimulating the city's vibrancy and economic growth.

Sir Nicholas Serota, Chair of Arts Council England, acknowledged Aviva Studios' impact on the social, economic, and cultural life of Greater Manchester, emphasizing its contribution to the city's international artistic reputation. Culture Secretary Lucy Frazer commended the government's support, envisioning Aviva Studios as a catalyst for creative industries and increased access to arts and culture in Manchester.
For more information please contact:
FACTORY INTERNATIONAL
Emma Robertson, Head of Press and PR, +44 (0)7813 521104 emma.robertson@factoryinternational.org  
Jamie-leigh Hargreaves, Press & PR Manager, +44 (0)7534 492118 jamieleigh.hargreaves@factoryinternational.org
Oscar Lister, Press & PR Manager, +44 (0)7494 688523 oscar.lister@factoryinternational.org
MANCHESTER CITY COUNCIL
Roger Williams roger.williams@manchester.gov.uk
Jane Lemon, +44 (0)7798 947519 jane.lemon@manchester.gov.uk
BOLTON & QUINN
Dennis Chang, +44 (0) 207 221 5000 dennis@boltonquinn.com
Sylvia Ross, +44 (0) 207 221 5000  sylvia@boltonquinn.com Lauren Butcher, +44 (0) 207 221 5000  lauren@boltonquinn.com