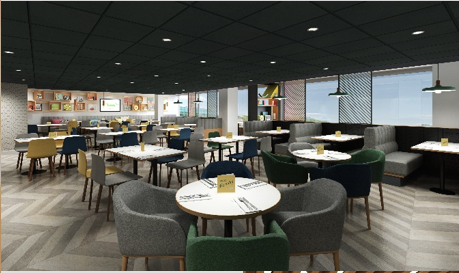 Holiday Inn Wembley unveils its concept for their new look open lobby.
Set to open this October, the £2million Open Lobby will completely transform the 336-bedroom hotel, offering a vibrant and spacious place to eat, meet, relax or work.
The open-plan space will also introduce an all-day dining menu, a 24/7 coffee shop for travellers on the go, free WiFi and board games – bringing something new to Wembley, and perfect for the business, leisure or bleisure guest.
Working in collaboration with design agency Matthew Mee, the space will be upgraded to the highest standards using a palette of grey, blue, green and yellow with wooden accents and eclectic art, offering a modern space in the heart of lively Wembley Park.
Zeljko Stasevic, General Manager of Holiday Inn Wembley said: "We're incredibly excited to have implemented the IHG Open Lobby concept at Holiday Inn Wembley, serving as a warm and welcoming hub for guests to both relax with a glass of wine, and catch up on their emails. It is a casual space that meets every travellers needs, enhancing the guest experience with increased functionality and modernised design."
The Holiday Inn Open Lobby concept was introduced by InterContinental Hotel Group following a survey on how business travellers have evolved and require one flexible space to work, eat and relax.