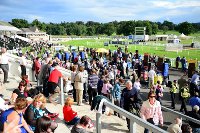 Diabetic delegates are in for a culinary treat today (7th November) as the expert chefs behind one of the UK's top racecourses provide a delicious lunch tailored to meet their dietary requirements.
Sodexo Prestige Venues & Events, catering partners at Perth Racecourse, are to host lunch and refreshments for over 100 guests - all with Type 2 diabetes - as they attend 'Living with Diabetes Day' at the exclusive venue.
The expert in-house caterers to several of Scotland's most exclusive venues, including Dundas Castle and Hampden Park, have put together a bespoke menu that meets all the nutritional needs of their guests, whilst still being innovative and delicious.
Sodexo Prestige's team of culinary professionals have created a mouthwatering menu for the event, featuring low fat milk, gluten free options and reduced fat and sugar, all of which are vital for the diet of diabetics.
The event is run by Diabetes UK, who provide advice, guidance and support for those diagnosed with Type 2 diabetes.
Tracey Quin, Sales Manager at Perth Racecourse said: "We are thrilled to be hosting this year's 'Living with Diabetes Day' at Perth Racecourse.
"As diabetes poses such a significant health risk to so many people throughout the UK, it is incredibly important that we support organisations like Diabetes UK, who look to educate on how to control diabetes and live healthily with the condition."
Tracey continued: "As the official caterers for the racecourse, our team of chefs have created a delicious menu suitable for the occasion.
"The lunch menu contains a healthy balance of meat, vegetarian and gluten free dishes, all of which contain fresh ingredients from our local suppliers. Fruit bowls will be available throughout the day and low fat milk will be used for tea and coffee, as well as having a healthy herbal tea option available.
"Our chefs have avoided the use of starchy vegetables in the Mediterranean Vegetable Skewers and have used reduced sugar in their Real Fruit Jelly for a healthy and tasty dessert.
"We feel that the menu for this unique event showcases the talent of our chefs in catering for a diverse range of needs and meeting necessary dietary guidelines as required."
The Living with Diabetes event will consist of various seminars covering key topics such as, 'What is Type 2 Diabetes?', 'Managing Diabetes' and 'Diabetes UK and You'.
Each seminar is designed to educate diabetics about their condition and offer advice on how to strike a healthy living balance when dealing with diabetes.
Furthermore, the event will allow those with diabetes to meet others with their condition and to ask professionals for advice or information regarding diabetes.
If you are living with Type 2 diabetes and want to find out more, visit www.diabetes.org.uk/scotland for more information and for 2015 Living with Diabetes Day dates.