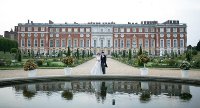 The wide variety of stunning ceremony locations and beautiful photography backdrops at Hampton Court Palace have led to the historic building being shortlisted for best wedding venue in the 2014 Perfect Wedding Awards.
A stunning building steeped in centuries of history, splendour and romance and set in 60 acres of beautiful gardens and 700 acres of historic park, Hampton Court Palace is one of the most majestic wedding venues in Surrey. Henry VIII's majestic palace of Hampton Court is situated along the banks of the River Thames and has echoed with the sound of celebrations and royal feasting for almost 500 years – why not be part of its history?
Today the palace is available to hire for weddings and your guests can step onto this inspiring stage and experience the soaring state rooms, grand staircases, cobbled courtyards and gorgeous gardens of one of the greatest palaces ever built.
The unmatched thrill of walking in the footsteps of kings and queens, as you invite your family and friends to toast to your future happiness, ensures that this venue offers an inspirational and empowering journey, with stories to tell for generations to come.
Approved suppliers, cherry picked from the top of the competition for their skill, craftsmanship and flair; teamed with event managers with passion as strong for the venues as for creating the perfect big day; equal a personalised five star service beyond comparison. At Hampton Court Palace your wedding is bespoke and as unique as the monarchs who once lived in here.
Hampton Court Palace is up against ten other venues including Clearwell Castle, Leez Priory and Fetcham Park. Click on the link to vote for Hampton Court Palace as the best wedding venue in The Perfect Wedding Awards 2014: http://www.planyourperfectwedding.com/wedding-competitions/vote-now-perfect-wedding-awards-2014