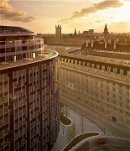 Park Plaza Hotels has officially launched an Indoor Positioning System (IPS) in the group's Westminster Bridge venue. Available as a part of the venue's event app, and as the result of a partnership with events agency The Live Group, the IPS will help conference attendees orientate themselves and find others on an interactive floorplan which tracks their movements in real time.
The AIM Gold accreditated venue will be making the technology available to conference organisers for their events, and is one of just two conference spaces in London to offer an IPS.
The system uses Bluetooth beacons around the venue to communicate with smart phones and tablets. In addition to tracking locations, the IPS will also perform other intelligent functions including proximity-based alerts, which will present conference attendees with relevant event material as they enter sessions, and automatic check-ins. The system also offers event organisers important insights into delegate behaviours by monitoring the audience throughout their events.

The IPS has tremendous potential to enhance delegate networking and to boost sponsor and exhibitor marketing. It was instrumental in The Live Group winning EIBTM Technology Watch Award last year within weeks of its launch.

Simon Willets, Director of Event Planning at the venue, remarked: "We are excited by the potential for this new technology to transform the event experience for conference goers here at Park Plaza Westminster Bridge London, and proud to be one of the first venues in London to offer this to our clients."

Situated in London's South Bank, within walking distance of the city's most iconic attractions, the hotel includes a 1,200 square-metre ballroom and 31 additional meeting rooms located across three consecutive conference floors. The fact that it now has the technology permanently installed will make it significantly more cost effective for clients who choose to use it to improve the quality of their events.