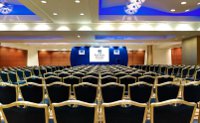 Park Plaza® Hotels & Resorts are currently offering a best price guarantee on their winter meeting bookings. With the knowledge that you're spoilt for choice when it comes to searching for a venue, Park Plaza are rewarding you with 5% off the next event booked at a Park Plaza hotel in Germany, the Netherlands and the UK* if you find a better meetings and events offer at a comparable hotel in your destination city.
The Day delegate rates start from €29,00 or £29.00** and the package includes:
Eight hour meeting room hire
Modern conference technology
Breaks serving coffee, tea, pastries and fresh fruit (maximum of three servings)
Buffet or working lunch
Delegate stationary, mints and mineral water
Complimentary Wi-Fi
Park Plaza® Hotels & Resorts are an upscale brand with stylish guest rooms, outstanding meeting spaces and dedicated staff that will go out of their way to show appreciation to their guests. The hotel group were recently awarded AIM Gold, the highest level of the industry's national standard, in recognition of its meetings facilities and services across the UK.
AIM, which is administered by the meetings industry association (mia), is a robust accreditation process which ensures that venues and industry suppliers are fit for purpose and operate as decent and ethical organisations. To achieve Gold accreditation, which is an optional step for venues, the whole customer journey and the business process relating to it are independently assessed in a rigorous process.
Speaking of the meeting facilities and AIM Gold accreditation, Greg Hegarty, Regional General Manager UK PPHE Hotel Group, commented: "Park Plaza Hotels & Resorts' properties pride themselves on providing excellent meeting space and service at competitive prices and our city-centre locations prove ideal for the inbound events market."
With Park Plaza® you can expect unique properties with individual character, excellent service and outstanding value. Meeting planners can count on the friendly and professional staff to ensure a smooth, easy and rewarding event planning process from start to finish.
Click here for further details and the full terms and conditions of the offer.
*Best price guarantee is applicable only on the day delegate (DDR) conference package and not the accommodation element.
**DDR quoted includes VAT, with the exception of London.