WHERE: Market Square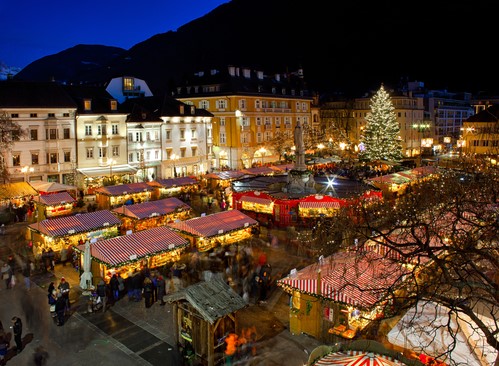 WHEN: Until 3rd Jan 2016
WHY: Voted one of the UK's favourite festive markets, Nottingham's own Winter Wonderland http://www.nottinghamwinterwonderland.co.uk/ is well worth a visit. Complete with an ice rink, two bars and multiple German-inspired food stalls from local independent retailers, there's something for everyone. Child-friendly rides will keep the little ones happy whilst warming mulled cider and wine is available in the log tavern-inspired bars for those less interested in the Helter Skelter slide.
WHERE: Liverpool City Centre
WHEN: Until 22 December 2015
WHY: As you wander through the stalls you will find retailers from all over Europe selling a wide selection of gifts and products that will make ideal Christmas presents. The Market is open until 8pm, so once you've got your shopping list boxed off, you can reward yourself with a bratwurst, a warming glass of mulled wine or a tankard of beer as you explore the ice rink and Bavarian bar set under the huge Christmas tree. An added highlight this year is The Ultimate Christmas Fair at the ACC exhibition centre, four days of festive fun, with gifts and Christmas crafts. http://www.theultimatechristmasfair.co.uk/
WHERE: 10 locations across Manchester City Centre
WHEN: Until 21 December 2015
WHY: It's the widespread design of the markets in Manchester - http://www.manchester.gov.uk/info/500241/christmas_markets - that definitely makes it unique. The markets spread the festive feel, as you explore the market and this cosmopolitan city. Trailing throughout the entire city, is arguably one of the most festive ways to pass the day. True to tradition, you'll find an array of international food, drinks and gifts. It is an eco-friendly Market as well, all glasses and mugs are returnable via a deposit scheme.
WHERE: LONDON'S SOUTHBANK
WHEN: Until 24 December 2015
WHY: A great place to visit anytime of the year but put 50 chalets at the riverside, and that creates the ultimate London Christmas http://www.southbankcentre.co.uk/whatson/festivals-series/winter-festival experience. Classic mulled wine, gingerbread and tree decorations line Queen's Walk, creating a cosy and festive atmosphere. Head down after dark to see the city lit up across the water and enjoy an evening of festivities, and food.
WHERE: LONDON'S Royal Victoria Docks
WHEN: Until 24 December 2015
WHY: It is all the festivities of a real Christmas Market, without the weather of winter spoiling our fun. Start your festive celebration in the unique indoor market at The Crystal. With fairy lit chalet stalls serving warming drinks and tasty treats – a unique continental festive atmosphere with live entertainment, winter sport games and screenings of classic festive films in our Crystal theatre. Get into the Festive Spirit.... indoors !!! Bookings@thecrystal.org 0207 055 6400
WHERE: Cardiff City Centre
WHEN: Until 23 December 2015
WHY: With over 190 exhibitors spanning the city centre, there is something for everyone at Cardiff's Christmas Market http://www.cardiffchristmasmarket.com. There is a wide selection of Welsh produce on offer, creating an authentic market atmosphere. A large number of hand crafted jewellery, and personalised items that will make thoughtful gifts. Head through the city to discover Cardiff's very own Winter Wonderland where you'll find an ice rink, a funfair and an Alpine cabin.
WHERE: East Princes Street Gardens Terrace, Edinburgh
WHEN: Until 4 Jan 2016
WHY: Positioned in a picturesque setting the European Christmas market in Edinburgh http://www.edinburghschristmas.com returns for 2015. Complete with all the usual suspects, you can't go wrong, so head down to meander the stretch of stalls in the run-up to Christmas. If it's something more authentic that you're looking for, St Andrews Square plays host to Edinburgh's Scottish Christmas Market. Expect locally produced sausages, fresh seafood, sweet treats and Scottish-brewed craft beer as well as locally made souvenirs.
LANCASTER
WHERE: Outside the City Centre at Lancaster Brewery
WHEN: 26 – 28 November 2015
WHY: It is in a brewery!! At the gateway to the Trough of Bowland just outside Lancaster, this Christmas Market is hosted by The Lancaster Brewery Company. Complete with all the usual suspects, you can't go wrong, to kick start that festive feeling with an evening of shopping, eating and drinking. Expect locally produced sausages, cheeses, smoked salmon, sweet treats and brewed craft beer as well as locally made souvenirs. Open 3pm –9pm. http://www.lancasterbrewery.co.uk/Christmas-Market
For further information click the links, or we can help you find accommodation at our many excellent listed venues.