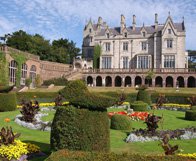 Lilleshall National Sports and Conferencing Centre is to receive a £1 million cash injection from Sport England and Serco, who jointly manage the venue.
The investment will be used to improve facilities including an extended and refurbished Queens Bar and new reception. The development will provide a central hub to the site, with a larger entrance and relocated reception. A refurbishment of the café bar will extend the food provision capacity and range.

Work is expected to be completed by the beginning of August and management is providing alternative facilities during the period of reconstruction to minimise disruption.

Kevin Burton, head of National Centres for Sport England said: "We are delighted that planning permission has been granted and that the plans are now in place to have this work completed. This is yet another step that will enable us to deliver our aspirations to provide world leading facilities and services, reflective of good industry practice, for the community, clubs and elite users."

An additional programme of works to create an office block is due to begin in April and will be completed by March 2016.

Sport England's Lilleshall National Sports and Conferencing Centre supports performance and community sport and offers a training environment for a wide range of sportsmen and women to develop their potential and for elite athletes to prepare for Olympics, Paralympics and Commonwealth Games. Lilleshall is also a key site for the English Institute of Sport which supports 1,700 elite athletes and the home of several NGB's and sporting associations.
Set in breathtaking and secluded surroundings, Lilleshall is also a flagship residential training centre and an award-winning National Centre of Excellence, providing a truly unique and inspiring conference, exhibition and wedding venue.