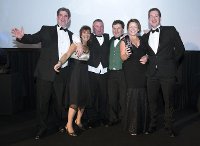 Exclusive venue, Perth Racecourse ended 2014 on a high, beating some of the toughest local contenders in leisure and tourism to win the Excellence in Tourism and Leisure Award.
Perthshire Chamber of Commerce 'Business Star Awards', which saw over 300 business owners, managers and industry leaders attend, looks to acknowledge excellence and 'star quality' amongst businesses throughout Scotland's central belt.
Sodexo Prestige Venues & Events, official caterers at the venue, were pivotal in securing the impressive accolade, which saw Perth Racecourse surpass some prestigious competitors such as, Crieff Hydro and Ballathie House Hotel, to scoop the top prize.
Sodexo Prestige, who cater at several of Scotland's most exclusive venues, including Hampden Park and Hamilton Park Racecourse, have worked to build strong relationships with local suppliers, bringing many benefits to food companies in the surrounding area.
Tracey Quin, Sales Manager for Sodexo Prestige at Perth Racecourse, commented: "We are delighted to have the venue recognised as a top venue for leisure and tourism.
"To be in the top three, with businesses like Crieff Hydro and Ballathie House Hotel is an achievement in itself, but to win the top spot is really fantastic and is an accolade to the hard work and effort put in by everyone here at Perth Racecourse.
"Sodexo Prestige's contribution to this award has been incredibly important. The use of local suppliers to cater for events has not only had a positive impact on the suppliers and our relationship with them, but more so a positive economic impact on the local area."
Sodexo Prestige and Perth Racecourse are well known for the strength of their relationships with local suppliers, such as the Wee Pie Company, a Perthshire based company which offers a wide selection of delicious traditionally-cooked wild game pies
This relationship was recognised at this year's Racecourse Catering Awards as Perth Racecourse scooped the award for 'Best Local Supplier to a Racecourse'.
Rose Martin from The Wee Pie Company said: "It has been a pleasure and a privilege working with Sodexo Prestige.
"They have such a professional attitude when it comes to partnering with suppliers and are a great example of the benefits that can be brought to local suppliers in the area."
With the year of Food and Drink almost upon us, Perth Racecouse are looking to enhance Perth's reputation as a hub for quality Scottish produce through their continued support of local suppliers.
Stuart Oliver from Invest In Perth, said: "Perth Racecourse is a top class venue which attracts a huge number of visitors and so it's fantastic to see this being recognised through this award.
"The partnership between the racecourse, Sodexo Prestige and its various local suppliers is absolutely key to its continued success.
"Invest In Perth is about attracting more investment to the area to encourage local business growth and these types of winning partnerships are key to that strategy."