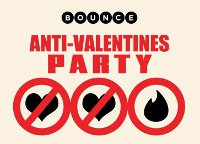 The Anti-Valentine's Party at Bounce, Europe's largest Ping-Pong and cocktail club, just got bigger!
Bounce is teaming up with Tinder for an epic Anti-Valentine's Day party, back for its third year, at the glamorous underground establishment. London's biggest Anti-Valentine's Party and the world's most downloaded social discovery platform app are coming together next month and it's creating sparks!
Tinder's mantra is, 'It's how people meet' and at The Home of Ping Pong, meeting people is exactly what you'll be doing at February's main event. With complimentary drink tokens and Tinder inspired ping pong games throughout the venue, Saturday the 14thFebruary is truly going to show canoodling couples and loved up loonies how to really spend the sickliest day of the year; with a good old fashioned party of course!
Love hearts are banished, fondling is forbidden and couples caught kissing will be subject to ridicule, named and shamed as Tinder 'Romance Rebels'. There's going to be live street art, Tinder freebies and music from DJ Mighty Atom all night as Bounce and Tinder team up to reject romance and send Cupid packing!
So if you're up for a jolly good party that thumbs its nose at the very mention of 'romance', head down to Bounce on Saturday 14th February. You can also book into Bounce's Italian inspired restaurant with a 7ft wide open counter pizza oven, and eat some extra garlicky pizzas whilst overlooking the main playing area which will also gain you a complimentary ticket to the main event.
Anti-Valentine's Party: Saturday 14th February 2015
Ticket price: £5 *advanced / £7 Standard
Doors: 9pm - 3am
Ents: Games, challenge tables throughout the evening
Music: The funkiest upbeat and retro party anthems
Click here for more info and buy tickets.