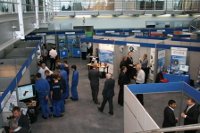 CEME Conference Centre is the first AIM Gold venue in Essex and East London, which is the industry's most recognised symbol of quality and service excellence. The venue adds substantial value for their clients and, together with them being a World Host venue, ensures delivery of the highest levels of quality standards and customer service.
AIM, awarded by the Meetings Industry Association (MIA), is a robust accreditation process which ensures that venues and industry suppliers are fit for purpose and operate as decent and ethical organisations. To acheive Gold accreditation, venues undergo an independent assessment of the whole customer journey and the business process relating to it.
The centre has superb exhibition space for in excess of 150 shell schemes across a number of exhibition areas, as well as 21 meeting rooms, fantastic film-shoot areas, parking for 600 cars, landscaped gardens and on-site catering facilities.
CEME is a 'not-for-profit', regeneration charity whose mission is to deliver local skills and local jobs for local people within the Technology sector in London Thames Gateway. The venue can therefore add real value to your event and fulfill all your CSR needs – at a fifth of City prices! Their state-of-the-art modern building has amazing space, first class facilities and they really understand the importance of outstanding customer service, quality and value to exhibition organisers and event buyers.