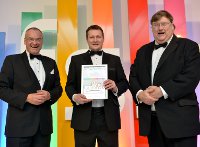 Ben Harrison, a top Edinburgh chef who seeks inspiration for the freshest of dishes from the great outdoors, has scooped a UK-wide award.
Ben is the head chef with fine dining and hospitality specialists, Sodexo Prestige at the Royal Botanic Garden Edinburgh (RBGE). He impressed judges with his unique take on using locally-sourced food from the garden and took home a Sports and Leisure FSM award.
Working at both the Gateway Restaurant and Terrace Café since 2003, Ben uses fresh fruit, vegetables, herbs and other plants grown on site in his creations.
The FSM award is an industry accolade which celebrates the UK's top contract caterers who have displayed innovation and creativity through their work.
Chris John, managing director, Sodexo Prestige and Corporate Services, said: "Ben is a worthy winner of this award. His creativity and passion for food is clear.
"He is a great ambassador for the company - a truly talented chef who delivers the highest standards consistently for his client and customers."
Ben began his career as a sous chef with Sodexo Prestige in 2003 and worked his way up to become head chef. He played a leading role in the 2009 opening of the Gateway Restaurant; helping with everything from planning to the coordination of the award-winning venue, including setting out extremely high standards and service levels.
He also helped with the design and operation of the kitchen and pulls together bespoke menus. The menus regularly include ingredients from the "Edible Garden Project", which aims to help people grow their own fruit and veg and offers visitors advice on how to start their own garden at home.
It has allowed Ben and his team to incorporate fresh ingredients such as rainbow chard, rocket and purple sprouting broccoli into the dishes served in both the restaurant and cafe.
Ben commented on the award: "I am thrilled to receive this award as it is really a reflection of all the hard work and dedication of the team at RBGE.
"I am passionate about using sustainable and fresh food in all my dishes when possible, so having the 'Edible Garden Project' so close to our kitchen is brilliant.
"Whatever is fresh and in-season in the garden we can use in our dishes and it makes a real difference to the quality and taste of our food. This award is something the whole team can celebrate."
The FSM awards were held in London's Grange Hotel at Tower Bridge on Monday 25th where three nominees from each of the 13 categories attended to see each of the winners announced.
Sodexo Prestige is the corporate dining, hospitality and events division of Sodexo and partners with 17 top class venues in Scotland – and 50 across the UK – including the Royal Botanic Garden Edinburgh, Hampden Park Stadium and Perth Racecourse. It also provides catering hospitality for The Open Championship, one of the world's biggest golfing events.