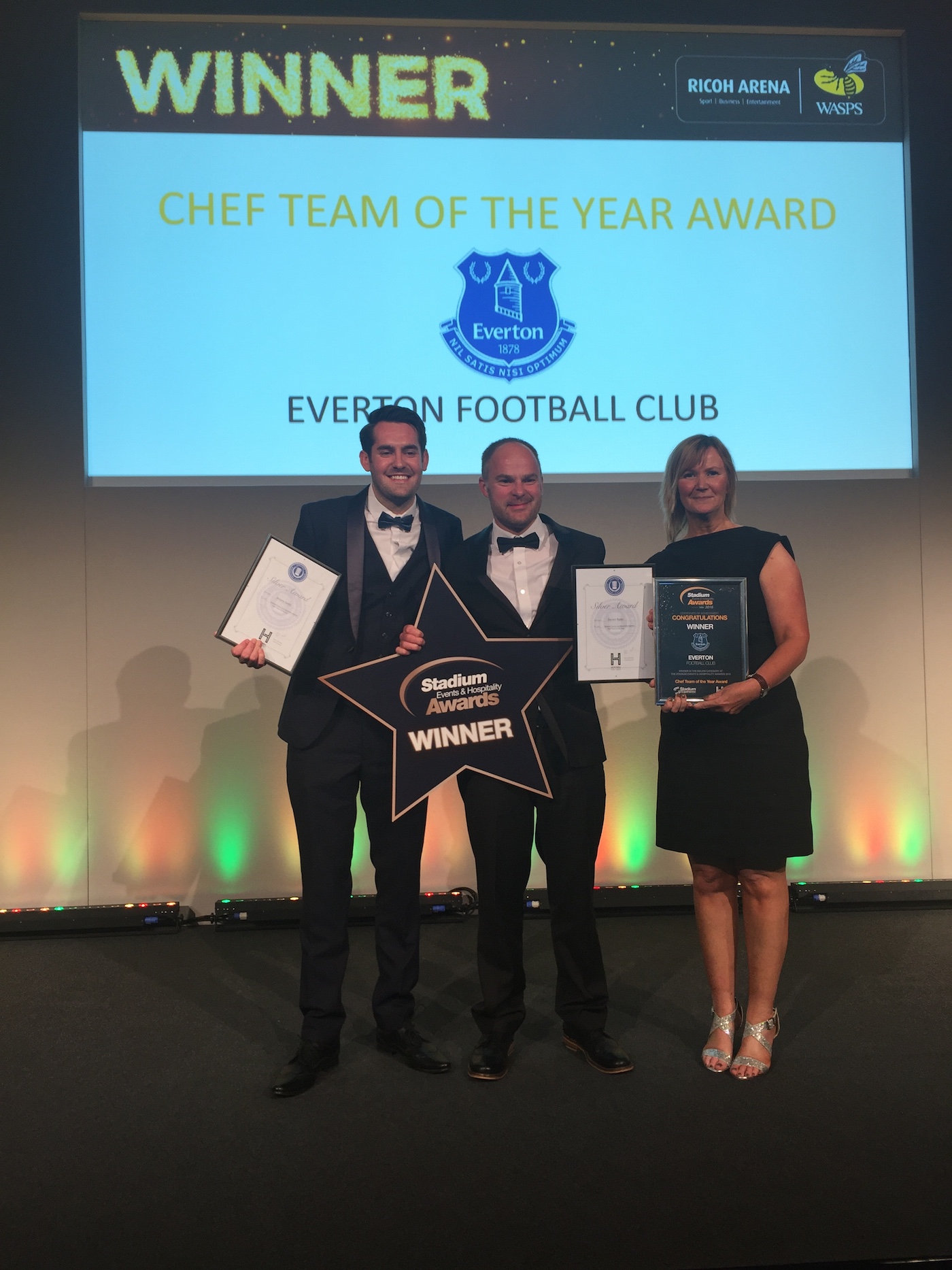 THE TEAM at one of the UK's most famous sports grounds is celebrating - after winning two major national awards in the space of one week.
Last night (2 June) Everton's hospitality experts took the Chef Team of the Year award at the prestigious Stadium and Hospitality Awards. And the honour follows hot on the heels of Gareth Billington, Sodexo Sports & Leisure executive head chef at Goodison Park, winning the People's Choice award at the prestigious Craft Guild of Chefs awards, which acknowledge the crème de la crème of the industry.
The Stadium and Hospitality Awards are widely respected, with the team facing hot competition to take the first place honour. And their skills were also recognised in the Media Choice category, when they received a bronze medal for their "warm welcome, friendly service and top class food" along with taking the bronze in the Matchday Hospitality category, for medium size stadia.
The Chef Team of the Year Award is judged as part of the live kitchen event at Hotelympia, held at the ExCel Centre in London. Teams had one hour to prepare, cook and present a three-course menu suitable for their Club Chairman to entertain the Head of the FA or RFU to dinner.
"This is a fantastic result for Sodexo at Everton FC," said Julie Tandy, Catering Services Director at Everton FC.
"Darren Ryder and Anthony Smith, under Executive Head Chef Gareth Billington excelled at producing a top class meal under time constraints as they do for our match day clients at all EFC matches.
"We are very proud."
The team at Everton were still celebrating their success of the previous evening, when An 800-strong audience gathered at a glittering ceremony at the Lancaster London Hotel last night (1 June) to see Gareth lift the People's choice trophy after receiving more than 1000 online votes from his industry peers.
In a career spanning more than 30 years, the 49-year-old, who trained at London's renowned Garrick Club before managing the pâtisserie section of the QE2 cruise liner, has won a clutch of accolades, including the title Sodexo UK and Ireland Unit Chef of the Year.
He is also widely regarded within the catering industry for his mentoring of young chefs, through Springboard's FutureChef initiative, which helps young people learn cookery skills and train for careers in the hospitality industry.
Chris Bray, CEO Sports & Leisure Sodexo UK & Ireland, said: "Gareth is an absolutely fantastic chef and we are delighted he has won The People's Choice at the Craft Guild of Chefs.
"Not only does he drive award-winning standards of food at Goodison Park, he is involved with nurturing young culinary talent in the wider community which has seen him mentor two of the last three Springboard FutureChef winners."
As well as providing match and non-match day hospitality for the thousands of annual visitors who flock to Goodison Park, Gareth, who leads a 32-strong team at Everton Football Club, has worked at Sodexo catered events such as Royal Ascot and the London Olympic and Paralympic Games 2012.
Under his leadership, members of his team took the gold medal in the Contract Catering/Football Stadia category in the Salon Culinaire contest for professionals working in the catering industry and were named 'Best In Class' in the Major International Contract Catering/Football Stadia award category in 2013.
Oliver Wright, Everton's Head of Hospitality, said: "We are absolutely delighted for Gareth and this award is thoroughly deserved.
"He and his team produce some of the finest food on offer in the Premier League, something our loyal matchday hospitality members would all agree with.
"In addition, Gareth is a true professional and is committed to finding and training local young people to realise their potential, which is very important to us here at Everton."
For further information about Sodexo Prestige at Goodison Park call 0151 530 5250 or email events@evertonfc.com.