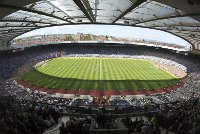 The conference and events sales team at Scotland's national stadium, Hampden Park, were crowned 'Sales Team of the Year' at the Sodexo Prestige annual sales conference.
The team were presented with the prestigious title as an acknowledgement of their sterling efforts in sales for 2014, despite the huge demand placed on them due to the stadium being a key venue for this year's Commonwealth Games.
The UK Prestige Venues & Events Sales Conference aims to reward the efforts made by conference and events teams across their venue portfolio. Held at St James' Park, official PV&E venue and home to Newcastle United Football Club, the conference also looked to discuss the ongoing sales strategy following a highly successful year for the company. Team building exercises and presentations were rounded off by a glittering evening meal and awards ceremony.
David Trotter, Catering and Services Director for Stadia and Racecourses in Scotland, commented on the win: "Our team at Hampden are absolutely delighted with the outcome of this year's Sales Conference.
"It has been an incredibly busy year for us at the stadium, with the Commonwealth Games taking up a significant chunk of our time and focus. Yet despite this, we have seen a financial growth of 14% on our sales targets this year and a 26% growth in comparison to 2013, which is fantastic. This is due to our commitment to customer service and quality standards both at our venue and across the portfolio.
"I would like to thank the team at Hampden for all of their efforts and dedication to the venue throughout 2014 and hope that we can continue to move into 2015 with the same success."
The conference included over 50 Sales Managers, General Managers and Directors from Sodexo Prestige and the evening ceremony also saw Jane Thomson, Hampden Park's Sales and Revenue Manager, win the coveted Regional Managing Director's Choice Award for Scotland.
Amanda Brown, National Accounts Director for Sodexo Prestige, said: "We are thrilled by Hampden's success at this year's Sales Conference and for everyone else who received an award.
"Our sales teams at our venues are incredibly important to ensuring the smooth running of the conference and events side of our business, so it is great to see the Hampden team performing so well.
"The planning, delivery and clear-up of the Commonwealth Games took up a huge amount of time, which makes the team's efforts all the more impressive."