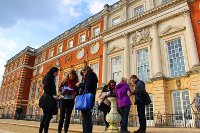 The Hampton Court Palace events team organised an afternoon of activities for event professionals on Wednesday 25th March, giving events agencies the opportunity to explore the majestic Palace.
The familiarisation afternoon titled 'Team Building With Tudors' showcased the venues new team building package and various daytime event spaces available at Hampton Court Palace. The event began with afternoon tea in the Garden Room with guests enjoying a sumptuous spread of deserts provided by approved Caterers Ampersand.
Agents were then split up into teams for the Hampton Court Palace tablet challenge. With various tasks including photo and video challenges, the teams had just over an hour to explore the Palace and its gardens.
Facilitated by team building partners Wild Goose, the challenge was tailored to encourage agents to see the various Historic spaces within Hampton Court Palace including the Great Hall, Tudor Kitchens and the infamous Haunted Gallery.
The final destination for the challenge was the Little Banqueting House which is also used for day time hire and was set for a lavish reception. Agents enjoyed fabulous canapés created by approved caterer Blue Strawberry and enjoyed views across the river from the Little Banqueting House.
With any challenge there had to be a winner. The Hampton Court Palace team proudly awarded the winning team with medals and iconic HRP Crowns. The event was thoroughly enjoyed by all and showcased a number of unique event spaces and suppliers in one afternoon.
Milan Thakrar, Business Development Manager for Historic Royal Palaces commented: "We are very excited to be launching our very own team building package at Hampton Court Palace and to showcase our day time offering. The event was designed to expose agents to the various events we can host at Hampton Court Palace, alongside the conventional evening reception and dinner. We pride ourselves in offering tradition with a twist!"
Hampton Court Palace is set within 65 acres of beautiful gardens and 700 acres of historic park land. Situated along the banks of the River Thames, this historical gem has echoed with the sound of celebrations and royal feasting for almost 500 years. Hampton Court Palace is looked after by Historic Royal Palaces, an independent charity that also protects the Tower of London, the Banqueting House, Kensington Palace and Kew Palace.