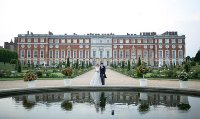 The stunning Hampton Court Palace was recently awarded the coveted Best Wedding Venue award from Perfect Wedding, the UK's best-selling monthly bridal magazine.
The fourth annual Perfect Wedding Awards, held in conjunction with BHS and Diamonfire, are voted for by readers and members of the public. They are designed to champion the nation's wedding day favourites: from the brands who provide exceptional service to those who offer fabulous products for an amazing wedding day. 22 categories celebrate everything from stationery, florists and cake designers, to blogs, boutiques and venues.
Hampton Court Palace were delighted to have been named as the Best Wedding Venue at the highly anticipated ceremony, attended by leading bridal brands from across the country.
Set within 65 acres of beautiful gardens and 700 acres of historic parkland, Hampton Court Palace is a magical setting for weddings. Steeped in history, surrounded by magnificent grounds and situated along the banks of the River Thames, Henry VIII's majestic palace offers the splendour of royalty for your special day.
For more information about what makes Hampton Court Palace so special, please visit: www.hrp.org.uk/weddings