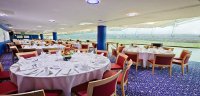 Jockey Club Catering (JCC) have kicked off four days of delivering showstopping food as they cater for 235,000 racegoers at The Cheltenham Festival, held from 10th - 13th March at Cheltenham Racecourse.
The Festival generates an estimated £50 million for the local economy and sees the creation of 23 marquees including the longest triple deck structure in Europe; eight Guinness bars; 60 mobile catering units; 240 private boxes and chalets; nine restaurants and 34 temporary kitchen structures which are all erected four months prior to the event.
During the festival, JCC will serve:
• 34,000 hospitality meals
• 250,000 pints Guinness
• 20,000 bottles of Champagne
• 8,000+ gallons of tea and coffee
JCC's menus feature ingredients sourced from the Cotswold area, including cheese, of which 96% is produced within 50 miles of Cheltenham. 100% of all salmon used is cured or smoked within 50 miles (Severn and Wye & Coln Valley) and is also 100% sustainable.

JCC recognises that good service is at the heart of The Festival experience and the event is supported by a catering team of 3,000 including 300 chefs and 300 managers, as well as 700 students that are selected from 17 local colleges. All of these elements combine to make truly legendary guest packages.

Phil Roberts, Jockey Club Catering General Manager at Cheltenham Racecourse, commented: "It's an honour to work at The Festival and every year, we want to offer our racegoers food and drink experiences that match the world-class horseracing."

Cheltenham Racecourse is currently undergoing a £45 million redevelopment that will see the creation of a new five and a half storey grandstand set to be completed in time for The Festival 2016.

Jockey Club Catering is a venture partnership between Jockey Club Racecourses, the UK's leading racecourse and venues group, and Compass Group UK & Ireland, to provide top quality catering, hospitality and service at 15 racecourses nationwide.