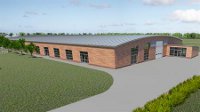 A new £1.5m conference and events facility is due to open at the Kent Event Centre near Maidstone in April.
The new events space, which is already attracting bookings, will cater for up to 4,000 theatre-style when it opens this spring. The single span building at the Detling site has been chosen to host the Kent Invicta Chamber of Commerce's annual Construction Expo in October 2014.
Kent Event Centre manager, Alison Wallington, commented: "We are hosting more than 60 public events this year plus conferences, training courses and meetings, and this investment underlines our status as the premier venue in the region.
"The investment enhances the range of facilities here. The building is generating a lot of interest from prospective customers and I'm confident it will enable us to break into new markets in the years ahead."
The Kent Event Centre's facilities comprise the Clive Emson Conference Centre, the John Hendry Pavilion and the Astor Pavilion. There are also six major meeting rooms.