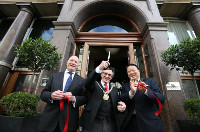 The Lord Mayor of Liverpool has met with the CEO of Millennium Hotels & Resorts following the global brand's acquisition of Hard Days Night Hotel.
During the meeting, CEO Aloysius Lee discussed his future plans for the iconic hotel with Cllr Tony Concepcion, and talked about his excitement for the North John Street property.
Aloysius said: "The city of Liverpool maintains its prominent stance through its investment in forward thinking projects; many of which are overseen by key figures within the city such as the Lord Mayor. It is for this reason that I looked forward to meeting him, and was keen to discuss the future of the hotel and our strategies to drive more global traffic to the city itself.
"We are confident that the inimitable Beatles experience offered by the hotel will certainly attract more international visitors to visit the city, particularly from countries including China, USA, Canada and Europe. As one of Liverpool's leading destinations, the four-star Hard Days Night Hotel acts as a beacon for the city alongside other Fab Four partners such as The Beatles Story, Cavern Walks and the Magical Mystery Tour. Together, they epitomise the significance of tastefully maintaining the Beatles legacy that Liverpool is so well known for."
The iconic Grade II listed hotel was officially acquired by Millennium Hotels & Resorts on August 19 and adds to the hotel group's already dynamic and impressive worldwide portfolio of more than 100 hotels.
Cllr Tony Concepcion said: "Having had the pleasure of meeting with Aloysius, it was wonderful to be given an insight into Millennium Hotels & Resorts' and Hard Days Night Hotel's refreshing plans for the city's thriving visitor economy. As part of the combined efforts, we are excited to welcome increased numbers of global tourists and build on Liverpool's already impressive reputation surrounding its Beatles legacy, heritage and cultural diversity."
For more information about Hard Days Night Hotel visit www.harddaysnighthotel.com or call 0151 236 1964.
About Hard Days Night Hotel:
Hard Days Night Hotel is a four star, Beatles-inspired hotel located at the heart of Liverpool city centre's historic Beatles quarter. Set in a Grade II listed building, the boutique hotel features exclusive artwork by world-renowned Beatles artists such as Klaus Voorman and Sir Peter Blake, and is home to Blakes restaurant and the exclusive Bar Four.
The hotel opened to much acclaim in February 2008, and has since become the destination of choice for visitors and music fans from all over the world.
As a result of its prominent global reputation, Hard Days Night Hotel has received the prestigious 'TripAdvisor Certificate of Excellence' for four consecutive years, and is recognised in the top ten per cent of businesses listed on the travel site.