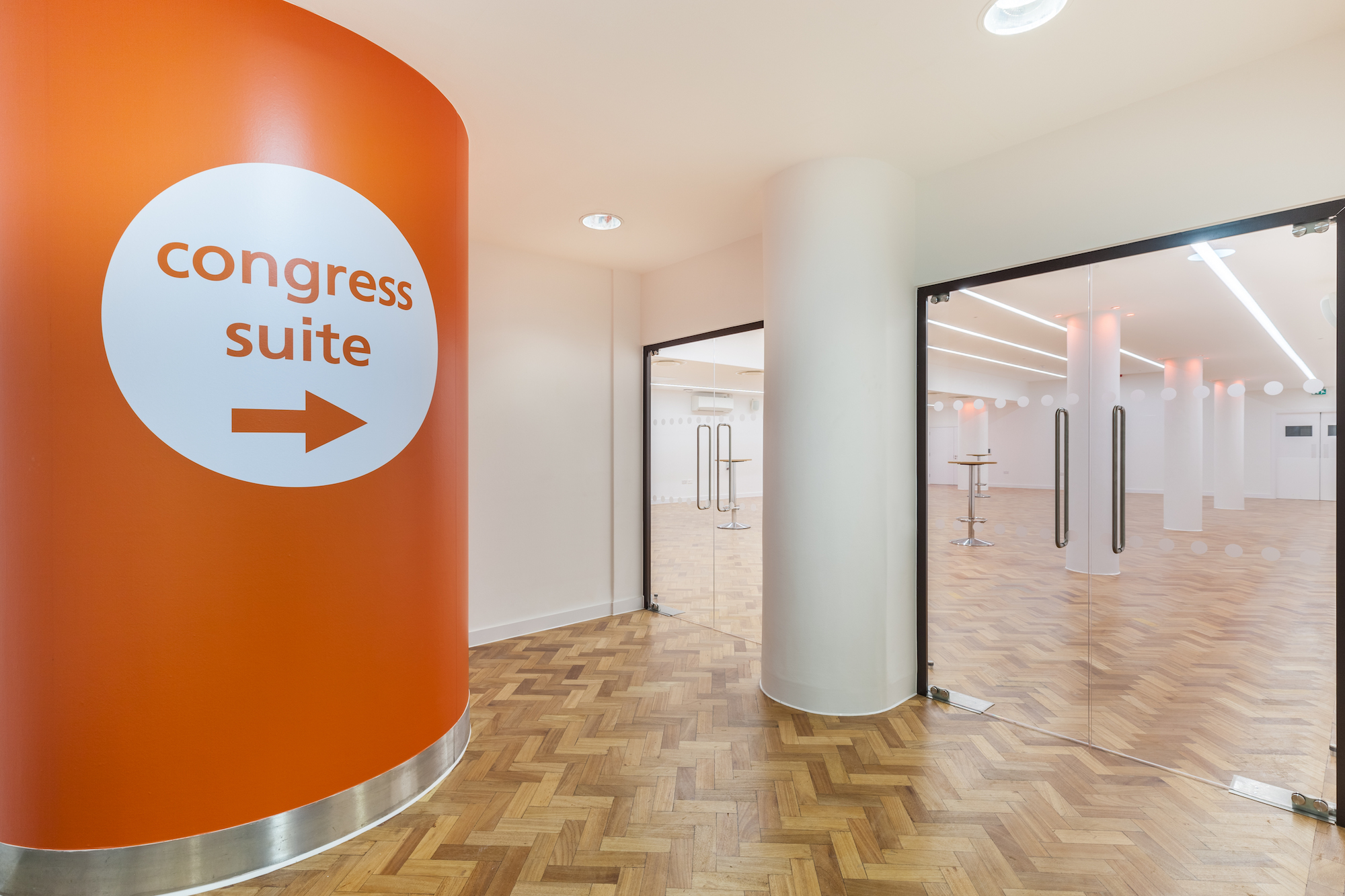 Congress Centre is pleased to announce the opening of a brand new space at the venue – The Congress Suite – following extensive renovations over the summer. The completion of the new room has been carried out ahead of Elizabeth Line service commencing in late 2018 from nearby Tottenham Court Road tube station, just two minutes' walk from the mid-century modern venue, which will allow direct access to Heathrow in around 30 minutes.
The Congress Suite, which measures 17.7m x 10.4m, has been created from four smaller interconnecting meeting rooms to form one large contemporary space, complete with air conditioning and LED colour changeable lighting. The room also features original 1950s' parquet flooring which has been carefully restored, while two sets of glazed double doors have been added to access the new space.
Situated on the same level as Congress Hall (the largest space at Congress Centre), when booked in conjunction with the Hall, The Congress Suite makes an ideal exhibition area and it is large enough to accommodate 14 3m x 2m exhibition stands. Alternatively, the room can be used as a breakout area for catering, workshops and meetings, accommodating up to 190 people for a sit-down meal or 200 standing.
The venue is well-known for providing quality AV equipment and The Congress Suite has been fitted with a Yamaha LS9 16-channel digital sound desk with 2 top-table microphones, as well as lectern and roving microphones. There is also a Sennheiser infrared hearing loop with 6 lanyard units for the hard of hearing, while 14 double sockets around the room, free standard Wi-Fi, 7 double data sockets for hard-wired internet connection, Cat 6 connections and 63 amp 3 phase complete the technical specifications.

In addition to the creation of The Congress Suite, Congress Centre's summer renovation programme included the refurbishment of the extensive women's and men's washroom facilities on the same level to increase capacity and install new LED lighting, as well as installing new LED lights in Congress Hall.
To arrange a personal tour of Congress Centre please call 020 7467 1318 or email: congress.centre@tuc.org.uk .