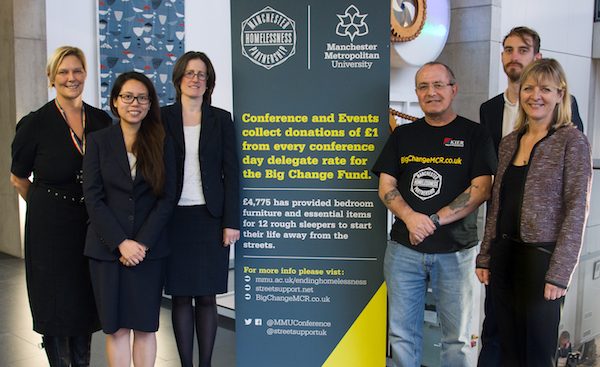 Since June 2017, Manchester Met's Conference and Events team have committed to collect direct donations of £1 from each conference day delegate rate for Big Change Manchester in support of the Manchester Homelessness Partnership.

The Partnership is a campaign drawing charities, grassroots groups, Manchester Council, businesses and residents together, and contributions to the Big Change Fund support those without somewhere to live by providing grants for education or training courses; furniture, furnishing or essential appliances; clothes for interviews, deposits and rents.

Manchester Metropolitan University is delighted to help Big Change Manchester to raise both money and awareness for this invaluable campaign, fulfilling one of the four pledges to which the University committed when it signed up to Manchester Homelessness Partnership's Manchester Homelessness Charter in May 2016.

Conference and Events at Manchester Metropolitan University would like to encourage other Manchester venues and hotels to become involved and support this great initiative. "Let's make a difference together."

For more information on donating and raising money for Big Change Manchester, please
contact Eleanor Watts on: 0345 1122211
To offer your time or to donate practical items, please contact info@streetsupport.net or visit
www.streetsupport.net.