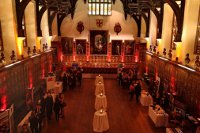 London event venue, Middle Temple, hosted the first night of the Pinstripes and Venue Pearls themed annual agent experimental event on Friday 7th March 2014.
A record 35 agents attended the event, including representatives from BI Worldworld and Venue Search London. Guests were treated to some exciting canapés and bowl food from Bubble Food (including a shot of shepherd's pie!) while speaking to representatives from 22 of the London City Selection venues.
Whitelight provided the stunning lighting which highlighted the amazing original hammer beam ceiling from when the Hall was built in 1570 and Karen Woolven provided some lovely centre pieces for the reception tables. Off to Work assisted with hosts to check in guests and guide them around the venue.
The agents were paired with their team leaders on the night, who then guided them around the London City Selection venues over the weekend. During the weekend, agents competed for some great prizes donated from the venues which included hotel night stays and restaurant vouchers.
A majority of the agents had not visited Middle Temple before and were very impressed by the space and location of the main Hall.