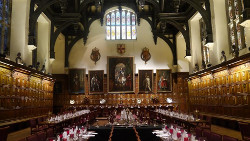 In celebration of the 800th anniversary of the sealing of Magna Carta, central London venue Middle Temple has launched the; '1215 Magna Carta' package. Specially created to give corporate events an intriguing historical spin, the package shines a spotlight on the links between the City of London, Temple Church, Middle Temple and the Great Charter.
Lorraine Thorne, sales and marketing manager, Middle Temple said: "The Magna Carta paved the way for the establishment of constitutional law, which makes its anniversary significant on both a national and international level. Our package gives organisers the opportunity to incorporate a momentous part of history into their events."
Available from 1st June- 18th December 2015 the '1215 Magna Carta' package features two roving Magna Carta boffins, who passionately divulge the history behind the Great Charter and Middle Temple to guests (during the drinks reception). Interesting facts will be unearthed with guests able to conduct a brief Q&A session. Each guest will receive a Magna Carta book as a souvenir of the evening.
'1215 Magna Carta' package starts from £95 per person +VAT, based on a minimum of 200 guests,
and includes room hire of Middle Temple Hall, Champagne reception with canapés and nibbles, three course seasonal dinner with wine followed by coffee and chocolates, two roving Magna Carta experts and a Magna Carta book. Smaller guest numbers may be accepted on enquiry, with package price subject to change. To book organisers should call the Middle Temple events team on telephone: 020 7427 4820 or email: events@middletemple.org.uk