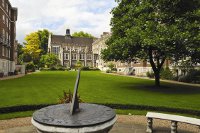 Middle Temple has unveiled a revamped accredited supplier list for corporate and commercial events. Over 50 suppliers were previewed in an invitation only tender process, with 16 making the final cut and awarded a three year contract.
Explaining the tender process, Sales and marketing manager Lorraine Butler, said, "We look for quality, innovation and consistency when inviting suppliers to tender. The process is very competitive and we only add suppliers who we believe will elevate client events and fully understand the dynamics of working in a Grade I listed building."

The new additions to the supplier list are:
• Florists: Hayford and Rhodes, Rob Van Helden and Mary Jane Vaughan, who join The Urban Flower Firm, Simon Lycett, Veevers Carter, Karen Woolven and Lavender Blue
• Lighting and production specialists: Full Circle Production, Metro and London Audio visual- responsible for daytime events only, joining Fisher, Event Concept, Sound by Design, White Light and Wise Productions
• Entertainment: Full Circle Performance and Interrupt the Routine, joining Sternberg Clarke and Prelude Entertainment
• Photographers: Lorna Elizabeth and Charlotte Fielding, who join Phil Ripley, Chris Christodoulou and MPP Image Creation
• Formal events toastmaster: Jonathan Waterman- The Complete Toastmaster, joining Joseph Nascimento

In response to an increasing demand for marquee events in the Middle Temple gardens, the venue has selected a brand new list of approved suppliers, including All Span Marquees, Ascot Marquees, Fews Marquees and Key Structures.

A list of catering suppliers was finalised in summer 2013 with companies including FoodShow, The Admirable Crichton, Ampersand and Bubble Food. Speciality caterers for Kosher food include Philip Small, Jason Millan and Tony Page Ltd. Asian caterers include Gaylords, The Clay Oven, Greenleaf Catering and Sanjay Foods.
Middle Temple, built between 1562 and 1573, houses some of the most imposing event space in London. Located a few minutes from Fleet Street, The Strand and Embankment and overlooking the river Thames, the secluded environment of Middle Temple Hall lends itself to corporate and private events. The history and heritage of Middle Temple spans many centuries and the site has remained virtually unaltered to the present day.