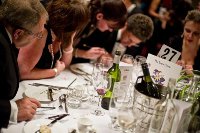 The NSPCC is returning to host its annual 'Brain Game' fundraising dinner at Central London venue, Middle Temple on 28th January. This will be the 22nd consecutive time the event has been hosted at the venue since 1993.
The NSPCC is the leading children's charity fighting to end child abuse in the UK. The Brain Game is a quiz where companies and teams of ten come together to raise money for the charity. Representatives from corporate and media industries including PWC, JP Morgan, the Telegraph, PKF Littlejohn, JLT and Mercer will be in attendance showing their support for the children's charity.
Lauren Stebbing, NSPCC community fundraising manager, commented: "Now in its 22nd year the Brain Game is a fun filled supper quiz evening with a balance of questions tailored to challenge and engage all levels of knowledge and intellect. The Brain Game has become a desirable event for companies who are looking for more cerebral ways to engage with their employees; some choose to bring clients as it's an impressive evening of fun with a competitive edge."
Since the launch of 'Brain Game' in excess of £700,000 has been raised to help vulnerable children across the UK. At this year's event the NSPCC would like to raise £25,000 to help protect a generation of local children by raising funds for the NSPCC's Schools Service, which helps primary school children understand abuse through workshops and assemblies.
On arrival guests will be shown to Middle Temple Hall where they will enjoy a delicious three course meal with wine, later participating in eight challenging quiz rounds. Raffle prizes will be up for grabs including a signed England cricket bat, Chelsea premiership football match tickets and a luxury Harrods hamper.
Middle Temple was built between 1562 and 1573 and is located a few minutes from Fleet Street, The Strand and Embankment and overlooking the river Thames. The secluded environment and imposing event space make Middle Temple Hall ideal for corporate and private events.