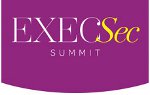 Delegate and supplier registration has now opened for the EXECSec Summit.
Being held on the 31st March – 1st April 2014, at Heythrop Park Resort, Oxfordshire, the EXECSec Summit has become renowned as the 'must attend' event for Senior level PA's and EA's. The Summit is designed to offer an efficient and stress-free way to see what's new in the industry and make profitable connections and partnerships.
Delegate attendees can stay ahead of the competition by reviewing and sourcing world-class solutions that help advance careers and discover fresh opportunities to help respond to the daily challenges that professional lives continually present – totally free of charge!
With a personalised itinerary of innovative face-to-face meetings, interactive seminars lead by industry experts, and unlimited networking opportunities throughout the event, plus an invitation to attend the evening Gala Dinner on the 31st March and complimentary meals and accommodation, the Exec Sec Summit will prove to be a valuable two days out of the office.
Contact Charlotte Russell on 01992 374100 or Click here for more information.