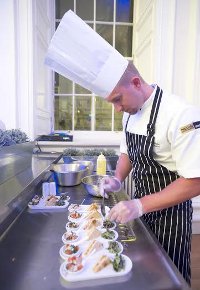 Sodexo Prestige Venues & Events has been praised for its commitment to local suppliers after creating innovative new menus packed with world class Scottish produce.
The exclusive menus are bursting at the seams with more locally sourced Scottish produce than ever and will be used for restaurants, football matches and prestigious events. They will be showcased at flagship venues across Scotland including Hampden Park, Dundas Castle, Blair Castle, the National Museum of Scotland and Perth Racecourse.
Industry bodies, suppliers and venue clients have praised the leading caterer for the company's efforts to celebrate Scotland's natural larder, especially throughout the 2015 Year of Food and Drink - an initiative that looks to promote Scotland as the Land of Food and Drink.
The menus, which feature everything from award winning game from the Highlands to fresh fruit and vegetables from Perthshire, to seafood landed from Peterhead and the East Coast, has seen Sodexo Prestige's team of expert chefs devise new and exciting dishes which look to bring each ingredient to life.
Fiona Richmond, Project Manager for Scotland Food and Drink, commented: "Thanks to Scotland's excellent provenance credentials and the quality of our fantastic larder, the country is rightly reputed as a Land of Food and Drink.
"Sodexo Prestige have, for many years, employed their expertise to create strong menus which highlight the fresh and seasonal Scottish produce they use and their dedication to supporting local suppliers is clear across their numerous sites and activities.
"The Year of Food and Drink is being celebrated in countless ways across food and drink festivals, food trails and themed menus country-wide. Sodexo Prestige's day to day work is key to the continued growth of our industry through the promotion of Scottish producers."
Well known artisan suppliers, Taste of Arran, based on the Isle of Arran, have enjoyed a fruitful partnership with Sodexo Prestige for seven years, supplying fabulously unique cheese, chutneys, oatcakes and ice creams to the leading caterer.
Alastair Dobson from Taste of Arran, said: "A number of years ago the chefs from Sodexo Prestige asked to visit us to find out more about our products and it was then that we knew we were dealing with a passionate company. This happens more now, but back then it was relatively unheard of for chefs to venture from their kitchens.
"Since then we have developed a great relationship with the team at Sodexo Prestige, supplying them with a variety of products such as ice cream, cheese, oatcakes, chutneys and mustards for major events such as the Commonwealth Games, Open Golf Championships and other esteemed occasions.
"We are proud to work with Sodexo Prestige and look forward to developing more business with them as ambassadors for Scotland's Year of Food and Drink 2015."
Keen to put suppliers on the map, the leading caterer has drawn up an exclusive chart which proudly maps out 33 of its local suppliers from across Scotland, giving partner venues and clients the opportunity to locate first hand where Sodexo Prestige source their fabulous produce from.
Lucy Scillitoe, General Manager at Dundas Castle, said: "As chefs now have an even greater emphasis on how food looks and is presented, Sodexo Prestige has found the perfect balance between creative presentation and uncompromising taste.
"Their dedication to the use of local suppliers whom Sodexo Prestige has built trusted relationships with, ensures the ingredients used in their dishes are fresh, seasonal and contain the flavours required to provide a lasting impression.
"As for their creative edge, Head Chef Tom Beauchamp has used his passion and knowledge to develop exciting flavour combinations that continue to surprise. A favourite dish this year is the Oak Smoked Salmon Char–Grilled Brioche Trencher, Bloody Mary Sorbet, Kale and Almond Pesto, Caviar, Sour Cream and Green Herb Oil."
Other delicious new dishes to appearing on the menus include tart of Scottish smoked trout sourced from Inverawe Smokehouse in Argyll, slow cooked Buccleuch beef from Campbell Brothers in Bonnyrigg and whisky ice cream made from Glenfiddich Malt and Graham's dairy cream.
Stephen Frost, Executive Chef at Sodexo Prestige, added: "Our commitment to using fresh, local and seasonal ingredients in our dishes is the driving force behind everything we do at Sodexo Prestige as we know how important quality is when it comes to food.
"It has been a real privilege to work alongside all of our suppliers as each of them have a unique and top quality product and so to put new dishes and menus together using their ingredients is a real thrill and what we are all about at Sodexo Prestige."