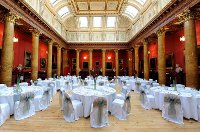 Sodexo Prestige are to cater for three out of four of Scotland's regional 'tourism Oscars'. The prestigious 'Scottish Thistle Awards', run by Scotland's national tourism organisation, VisitScotland, will toast the biggest, best and most innovative names in the Scottish tourism industry.
The regional award ceremonies are to be hosted at Edinburgh's Royal College of Physicians, Glasgow's Hampden Park and Perth Racecourse, with a similar ceremony taking place for tourism companies based in the Highlands.
Sodexo Prestige Venues & Events (PV&E) are the official catering and hospitality partners to all three regional Scottish Thistle Awards venues, and they will also be showing their support for the major industry event by sponsoring this year's 'Creative Ambition Award'.
The finalists from each category of the regional awards will go on to attend the national Thistle Awards ceremony, which is due to be hosted at the Crowne Plaza in Glasgow in March 2015.
Amanda Brown, National Accounts Director for Prestige Venues & Events, commented: "We are absolutely delighted to be catering for three out of the four regional awards ceremonies this year.
"The Scottish Thistle Awards are a major annual event for Scotland's tourism industry, therefore we were keen to support it further through our sponsorship of this year's Creative Ambition Award. This is a very special national only award, which looks to recognise and celebrate entrepreneurial creativity and dedication within Scottish tourism.
"As a company that is passionate about food and drink, we are constantly looking for creativity and innovation, therefore, this award is one we can relate to and are very proud to sponsor."
A team of Executive Chefs from PV&E will be working round the clock at all three venues to put together a five star menu to whet the appetite of the industry partners in attendance.
PV&E have looked to create an innovative and clever menu which features produce from Scottish suppliers across all areas of the country including Inverness, Argyll and Perthshire.
Amanda continued: "Each award ceremony will feature the same menu to ensure the same experience is had at each exclusive event.
"Although we are not planning on revealing the menu before any of the events, we can say that our team of expert chefs, headed by our Executive Chef, Stephen Frost, have put together a stunning menu, which looks to highlight the provenance and quality of the produce we have available right on our doorstep."
For over 20 years, the Scottish Thistle Awards have looked to celebrate success, innovation and dedication by those working in the Scottish tourism industry.
This year's awards will have a particular focus on customer experience, while also looking to acknowledge and support excellence in Scottish tourism, as well as unwavering commitment to the tourism sector.
Stephen Carter, the Chair of the Thistle Awards Industry Panel and a board member for VisitScotland, said of this year's Thistle Awards: "The Scottish Thistle Awards is an opportunity to recognise those that are going the extra mile to make a visit to Scotland an unforgettable experience.
"The sheer calibre of entries we have seen this year demonstrates the quality, commitment and dedication of individuals and businesses across the entire country.
"These awards are the perfect opportunity for the tourism and hospitality industry to come together for a special celebration of our tourism champions. I wish all the shortlisted candidates the greatest of luck."
This year's regional ceremonies will take place at Edinburgh's Royal College of Physicians on 5th November, at Hampden Park in Glasgow on the 7th November.
Finalists for businesses in the Highlands will be announced at the Highlands and Islands Tourism Awards at the Kingsmill Hotel in Inverness on the 7th November and at Perth Racecourse on 11th November.