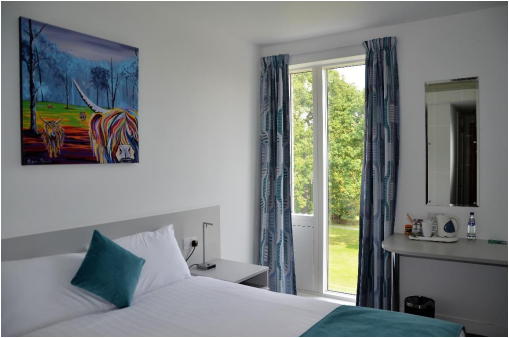 Steven Brown an internationally recognised Scottish artist well known for his colourful paintings started his career in 2012. His colourful and vivid paintings usually represents animals the most famous one being Harris McCoo.

Steven is actively involved in supporting education programs and bringing art into educational institutions. Recently he launched his books for children and is running art workshops to support young talents so seemed a perfect fit with the vibrant University campus where the bedrooms are situated.

"Having Steven's works in our guest rooms was a unanimous decision by the team although it was a tough decision on which painting and characters we went for" comments Philippa Davies, Head of Conferencing at Roehampton Venues

In the end the Roehampton Venues team couldn't decide on just one set of paintings, or in fact two so each room has a different character or scene. The team believe the style is exactly what was needed for our accommodation, modern, contemporary, and lively just like them! Plus it gives guests something to talk about over breakfast the next day.

Elm Grove Conference Centre is situated in the grounds of the University of Roehampton. Within the state of the art conference centre are 31 guest bedrooms priced at £69 per night Roehampton is based near Richmond Park, Wimbledon, Putney and Barnes. With close links into central London the guest bedrooms offer the general public but also event bookers a perfect place to stay.


To learn more about our guest accommodation please contact the accommodation or sales team on
Conferences@roehampton.ac.uk 0208 392 3505