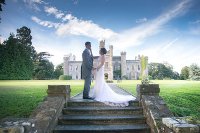 A historic castle in south Wales is reopening as a wedding venue for the 2014 season following the first phase of a multi-million pound refurbishment to restore it to its former glory.
Hensol Castle has been closed to the public for almost a decade and only used for as a stage set for the television series Doctor Who, Sherlock and Torchwood. The castle will now be open as a wedding venue from April 2014 for wedding parties of up to 180 guests, who can hire it exclusively. The venue will hold a wedding licence and consists of four ceremony and reception rooms, together with a marquee in the central courtyard.
The 400-year old castle has original architecture, turrets, gothic towers and feature staircases. The castles restoration is in keeping with its 17th century heritage in gothic style, and all of the conference suites are named after famous previous owners of the castle.
Located in Hensol Park, next door to the Vale Resort the former stately home is just six miles outside of Cardiff city centre and three minutes off junction 34 of the M4. The castle is surrounded by landscaped gardens and has a 15-acre lake and serpentine pond.
Paul Beddoe, sales and marketing director of the Vale Resort, commented: "Hensol Castle really is a unique place and a must-see for any bride and groom. Not only will they have an idyllic setting to create their picture-perfect day, but they will also be looked after by a team of experts who are experienced in delivering the highest standards of wedding service.
"The real selling point for Hensol Castle is that it can be hired exclusively, which makes it highly attractive for brides and grooms who like to have an intimate celebration just for them and their guests.
"All clients will get the red carpet treatment from start to finish, and as a thank you for choosing Hensol Castle we have included a number of extras to all wedding packages".
The wedding package at Hensol Castle includes the following as standard:
· Luxurious suite for the Bride and Groom
· Red carpet on arrival
· Personalised menus
· Silver cake stand and knife
· Preferential room rates for guests
· 20% off treatments in the spa (one month prior to your wedding)
· Free anniversary dinner
· Free three month's free membership of the Health & Racquets Club (one month prior
to your wedding)
· Free round of golf for the groom and 3 friends (prior to your wedding)
· Free car parking
Paul Beddoe continued: "The investment into the careful restoration and refurbishment at Hensol Castle is something we are very proud of. It's like stepping back in time when you visit the Castle. The quaint courtyard is perfect for an intimate drinks reception, and the wooden jetty stretching into our stunning lake is a stand-out spot for some striking photos.
"At the Vale Resort, we have an established reputation for our existing wedding facilities in a contemporary setting. Hensol Castle now gives us another string to our bow and a totally different wedding proposition, catering for those who like a little bit of history."
Formally known as Hensol House, the estate was purchased by the family-owned retail company Leekes in 2003 and is being developed as part of the Vale Resort's hotel, conference and weddings offering.
Dating back to the 17th century, this Grade I listed castle is steeped in history. Its previous owners include Samuel Richardson, who is credited with introducing the threshing machine to world of agriculture, and Benjamin Hall who oversaw the construction of the clock tower at the Houses of Parliament.
Phase two of the investment will include adding 50 bedrooms. Currently, guests can stay at the adjacent Vale Resort, which comprises a 143-bed luxury four-star hotel, two championship golf courses, Wales' largest spa, an extensive health and racquets club including a large gymnasium, pool, sauna and steam room.