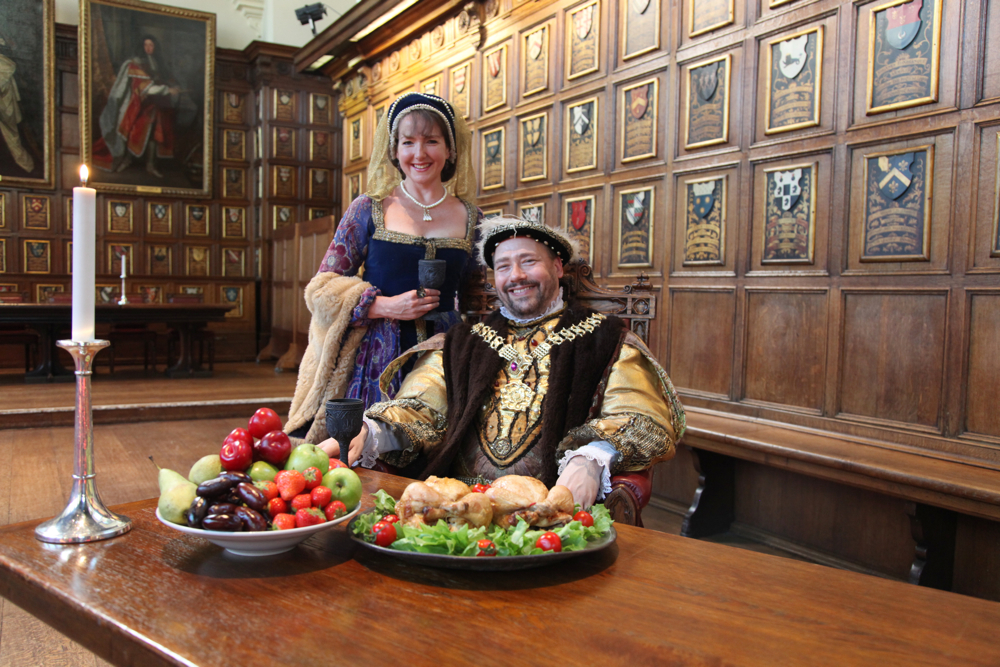 Entering the Hall, guests will immediately feel transported to another time as they take in the awe-inspiring oak double hammer beam roof. Immersive cabaret experiences throughout the evening will draw guests further into the intriguing Wolf Hall world.
Jovial tunes created by string and wind instruments of the bygone era fill the Hall, as a courtier greets guests on arrival; instructing them in the rules of court as not to offend the king. Entertaining jesters perform jokes and tricks provoking gasps, before the arrival of His Majesty to raucous fanfare. King Henry VIII will walk amongst his subjects as they make merry, stopping to converse when a special someone catches his eye. Guests will feast on a three course banquet served by maids and grooms. His Majesty will then lead his subjects to the floor for an evening of lively dancing, before carriages arrive.
Exuding historical charm, Middle Temple is ideal for themed parties. Middle Temple creates bespoke add-ons and upgrades allowing for a variety of possibilities suited to the organiser. The 'Wolf Hall' package starts from £150pp for a minimum of 150 guests and includes venue hire, costumed waiters (maids and grooms), sparkling wine for the reception, unlimited soft drinks for the reception and dinner, three course meal, coffee, ½ bottle of house wine per person, printed menus, event and cloakroom staff.
Upgrades to the package for a more immersive guest experience are available upon request including themed menus, interactive costumed performers such as Henry VIII, jesters, courtiers and live musicians.
Exclusive Christmas party nights in the Hall are available for between 150-300 (225 for dinner/ dance) guests. Intimate Christmas parties can be hosted in the Bench Apartments with dates available upon request.
For more information or check availability contact the team on telephone: 020 7427 4820 or email: events@middletemple.org.uk